Welcome to the Town of Sudlersville's official website. We invite you to use this site to learn about the town's rich history, to keep updated with current news and exciting events that take place here every day, and to access information about town government and services that are important to you.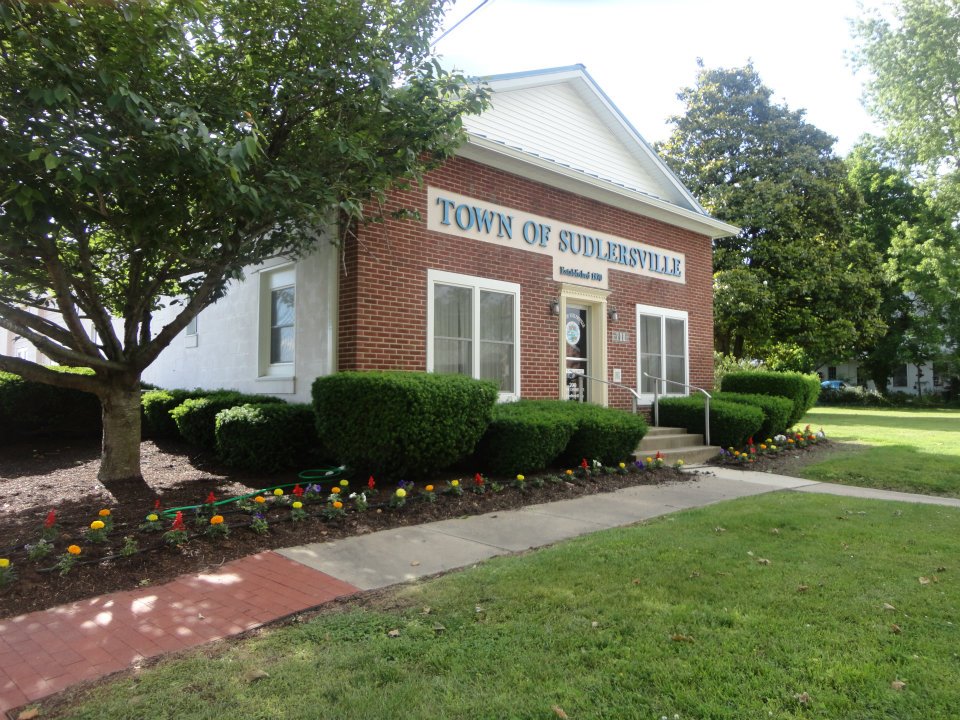 Important Town Hall Updates
Planning Commission
Thu, May 21, 2020 7:00 PM - 8:30 PM (EDT)
Please join my meeting from your computer, tablet or smartphone.
https://global.gotomeeting.com/join/121501597
You can also dial in using your phone.
United States (Toll Free): 1 866 899 4679
United States: +1 (224) 501-3318
Access Code: 121-501-597
New to GoToMeeting? Get the app now and be ready when your first meeting starts:
https://global.gotomeeting.com/install/121501597
*****************************************************************************
Town of Sudlersville
Planning Commission Meeting Agenda
May 21, 2020
Call the meeting to order
Pledge of Allegiance
Acknowledgement of guests
Approval of minutes from February 20, 2020 meeting
Reports:
              - Code Enforcement Report- No new Violations reported from Zoning Administrator.
              - Building Permit Report- Permit issued to Jays Auto, and Verizon
Old Business:
New Business:
                   -Review of Pastrana Racing, LLC Preliminary Site Plan Review                  
Public Comment:
Adjournment
*****************************************There is a site plan for the Pastrana project taped on the door of the Town Office for anyone to review.
Anyone can email any questions about the Pastrana project to the town hall and we will try to get answers for their questions before the Planning Commission meeting.
*******************************************************************
THE COMMISSIONERS OF SUDLERSVILLE
ORDINANCE No. 2020-02
AN ORDINANCE concerning Amendments to the Town's Noise Ordinance
Title of Ordinance – AN ORDINANCE OF THE TOWN OF SUDLERSVILLE TO AMEND THE SUDLERSVILLE NOISE ORDINANCE TO AMEND SECTION 1-04 TO ADD ADDITIONAL EXEMPTIONS.
FOR the purpose of repealing and re-enacting with amendments portions of Section 1-04 of the Noise Ordinance of the Town of Sudlersville, Maryland (the "Town) to add additional exemptions. 
RECITALS
WHEREAS, the Town Commissioners may from time to time amend, supplement,
change, modify, or repeal the Noise Ordinance; and 
WHEREAS, that such amendment, supplement, or change may be initiated by motion of the Town Commissioners; and 
NOW, THEREFORE, BE IT ORDAINED AND ENACTED by the Commissioners of
Sudlersville that:
SECTION 1. That item Section 1-04 of the Sudlersville Noise Ordinance be Repealed, and Re-Enacted as Amended to add a subsection H to read as follows:
AUTO (AND MOTORIZED VEHICLE) RACING FACILITIES AND EVENTS OCCURRING BETWEEN 7:00 A.M. AND MIDNIGHT.
All capital letters indicates proposed language to be added to the Zoning Ordinance.  [Strike through in brackets] indicates proposed language to be deleted, if any.
 SECTION 2. The Recitals to this Ordinance are incorporated herein and deemed a substantive part of this Ordinance.  
 SECTION 3. In this Ordinance, unless a section of the code is expressly repealed in its entirety and reenacted, new or added language is in Capital letters, and deleted text is crossed out and enclosed in brackets.  Substantive language added after the date of introduction is in bold, italicized font and substantive language deleted after the date of introduction is crossed out with a double strikethrough.  
 SECTION 4. In the event of conflict between the provisions of this Ordinance and any other Town laws or ordinances, the provisions of this Ordinance shall prevail.
Ordinance No. 2020-___
 SECTION 5. The title of this Ordinance, or a condensed version thereof, shall be deemed to be, and is, a fair summary of this Ordinance for publication and all other purposes.
 SECTION 6. This Ordinance shall take effect immediately with passage according to law, but in no event shall this Ordinance take effect until 10 days after the date of the public hearing as identified below.
 Thomas Yeager, Town Attorney
Ordinance No. 2020-02___
2
 ***************************************************************************
Town of Sudlersville
Commission Meeting Agenda
May 6, 2020
Call to order at 6:30  
 Pledge of Allegiance
 Approval of previous minutes from meeting February 5, 2020
Reports
                                             Fire Company-  
                                            Sheriff Department              
                                             Library Report- 
              MES Report
              Engineer Report
                             Planning Commission-     
                            Town Clerk Report-
Old Business:
Introduction of Noise Ordinance
Discussion of offer on surplus property
Postponement of the town election
New Business:
Public Hearing for Noise Ordinance 2020-02
Public Comment
Public Hearing for Ordinance 2019-05
Public Comment
Action Items:
Public Hearing for Noise Ordinance 2020-02
Public hearing for Ordinance 2019-05 to be voted on.
Public Comments
Adjournment